---
I Am Perfectly Imperfect – Addison's Journey
---
I'm perfectly imperfect! I was diagnosed at 12 years old with scoliosis, and I am 13 now. At first I thought my brace should be hidden and no one should see it.
But then I realized who cares – I am who I am and I don't care. So I put a lot of stickers all over my brace. My friends and family try it on all the time. I want to show people that I show off my brace. I love my stickers and they all have a great meaning behind them.
I do Curvy Girls, which helps me so much. I see girls with colored braces and designed braces, but mine has stickers. So show it off! Put stickers on your imperfection.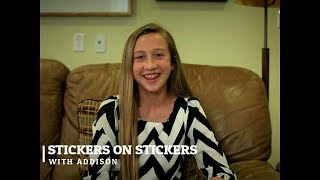 I am perfectly imperfect.
– Addison
---