---
Traveling Tips
---
Going on a vacation soon? Athena and Frank have got you covered. Enjoy some behind the scene footage from our video shoot!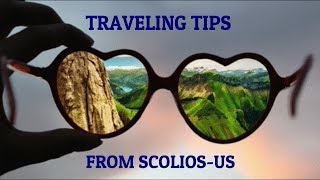 ---
Here are some Scolios-us traveling tips:
1. Use your time wisely.
If you are only required to wear your brace for 18 hours a day, then use your other 6 hours wisely when you're traveling. If you know that you have a 3-hour flight and won't be able to get comfortable if you wear your brace, take it off for those 3 hours. If you shift around your schedule, you can still get in your 18 hours and you can have a comfortable flight, too! Win – win.
2. Claim the bed.
Air mattresses and braces don't seem to get along too well. Air mattresses tend to deflate, so it can get pretty uncomfortable if you're sleeping on one in your brace. So, either get a really good air mattress that doesn't deflate or claim the bed! Your brace is the perfect excuse to get to sleep in the bed every trip!
3. Don't forget extra undershirts.
When you're on vacation, you might not have a washer and dryer where you're staying. You may not be able to clean your undershirts, so make sure you bring extra so that you can keep clean and avoid any skin problems.
4. Do extra skin checks.
If you're going on vacation to somewhere hot, like the beach, be sure to check your skin more often. If you're not used to the hotter temperatures, you will probably sweat more or just be stinking hot. A big temperature change can irritate your skin, so check your skin more frequently just to make sure everything is ok. The last thing you want on your vacation is an annoying rash!
5. Don't stress about your brace.
Do your best to get in your hours, but don't stress if you find yourself a few hours short when you're on vacation. Vacations are supposed to be stress-free, so don't let your brace get in the way of having fun on your trip. If you are a few hours short, make up for those missed hours once you get home.
---
Got good tips and tricks for traveling? Share your advice by emailing [email protected]!
---